Whatever your system is, it's vital that you have some way of keeping track of your research.
PERRLA Online has a built-in system for taking and managing your Research (Reserach Notes) from start to finish. However, if you want to use a different method, here are a few.
Notecards
One of the best uses for the standard index card is for research papers. They're small, easy to organize, and incredibly resilient to being bent, wet, and shoved into a backpack. One of their greatest features is that you can use the same notecards from your initial research until your final paper without needing to do major work to them.
Each notecard should contain the source information, the quote/summary/research, the research's location in the source, and any notes about it. It might look something like this: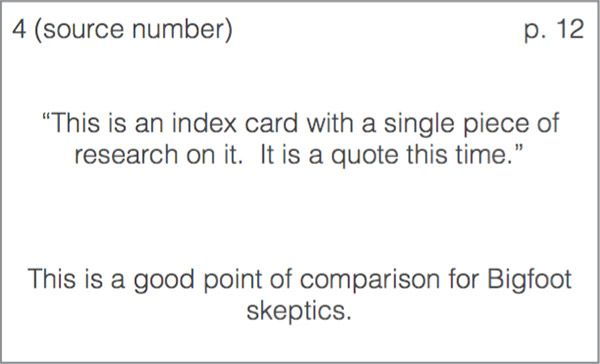 Here's how it works
Create/keep a master list of all your research sources.
This is a numbered list of all your sources. As you find new sources, you add them to the list with all of their pertinent information. While a notecard can work, this is often better done on a Word document or a piece of paper. Now, instead of having to include your source information on each notecard, you can put the source number.
Create a new notecard for each piece of research you find.
Whether it's a single number or a whole paragraph, each notecard should only contain one idea. This makes it easy to throw away irrelevant research (notecards) or to reorganize them later.
Keep all of your notecards until your research is complete, then organize them.
Once you've finished your research, you can easily organize your research so that it steps through your paper line by line. This is also helpful when creating your paper's outline. When you have them set, you can start writing and just work your way down the stack from the introduction to conclusion.
Outlines
Maybe notecards aren't your thing. If you like to work in a word document or in a notebook by hand you may enjoy outlining your research instead. This method is helpful when your topic requires you to tackle certain texts as a whole (or themes within those texts).
Instead of only writing down the bits of information that you think you might need for your paper, the goal of outlining is to copy the text's structure and argument in a systemic way - taking note of any particularly helpful pieces of research along the way. This means that your final outline will contain both the big picture ideas found in your text as well as the particular quotes and facts that you will need later on in your paper.
This method can be helpful if you are still trying to narrow down your topic, if you need to go back to your source later on for different material, or if you need to make generalized arguments about your source's context or position.
The easiest way is to begin each source on a new page with all of its bibliographic information at the top. Then, proceed to outline the text with as much or little detail as you need. Be sure to include the page number or location on each line. If you're using notebook paper, you can keep the page number in the left margin.
Here's an example: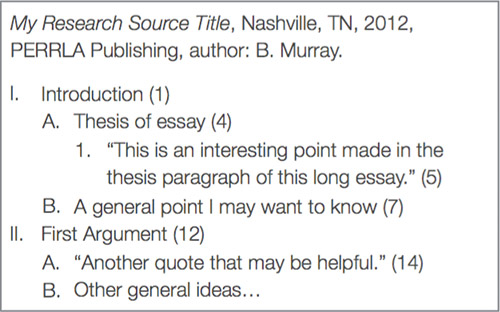 Direct Copies
Some people work best when they can interact directly with the source material on the page; underlining, circling, scribbling notes in the margin. This method allows you to do just that.
We suggest that you make photocopies or prints of all your resources to avoid writing in the originals. We say this for a number of reasons.
First, a stack of papers is much easier to handle than a bag of books.
Second, it allows you to access all of your sources in the same way, even if they came from various books, web pages, or journals.
Third, if you mark in your original document, that document is permanently affected by what you think is important in this moment.
Also, if it's a library book, definitely don't mark in it. Librarians hate it and have a second sense for it. You've been warned.
One of the great things about this method is that you can always see your research directly in its context. If you can't remember why you thought it was important, you can read a few lines ahead and behind to remember. This method also keeps you from having to re-write everything, which can be helpful and time-saving. But, that also means you are less likely to remember it.
Once you've gone through all of your research materials, you can create your outline from all of your notes, underlines, and scribbles before starting your first draft.
Word Documents
This last method is our least favorite but works for lots of people - just keeping everything in one long Word document.
This is definitely the simplest of the solutions, and it has upsides of its own.
it keeps all of your research, quotes, and ideas all in one place. It's easy to keep it with you since it can be stored digitally on a computer, thumb drive, or online. It also gives you access to all of the powerful features that come along with digital documents.
This can also be a helpful way of storing your research if you intend like to use a lot of quotations. You can enter the quotes as you find them and then copy and paste them into your draft as you need them without needing to worry about transcription errors.
However, if you aren't as comfortable with digital environments, keeping all of your research in a Word document might not be the best option for you.
Choosing a Method
No matter how you decide to organize your research, find a method that works for your own style and workflow. Even the best method - if it doesn't fit with how you work - will cause you to spend more energy organizing your work than forming a solid argument.
Tip: Always feel free to tweak any of these methods to fit your own style. The best style of organization is the one that helps you work the most efficiently.